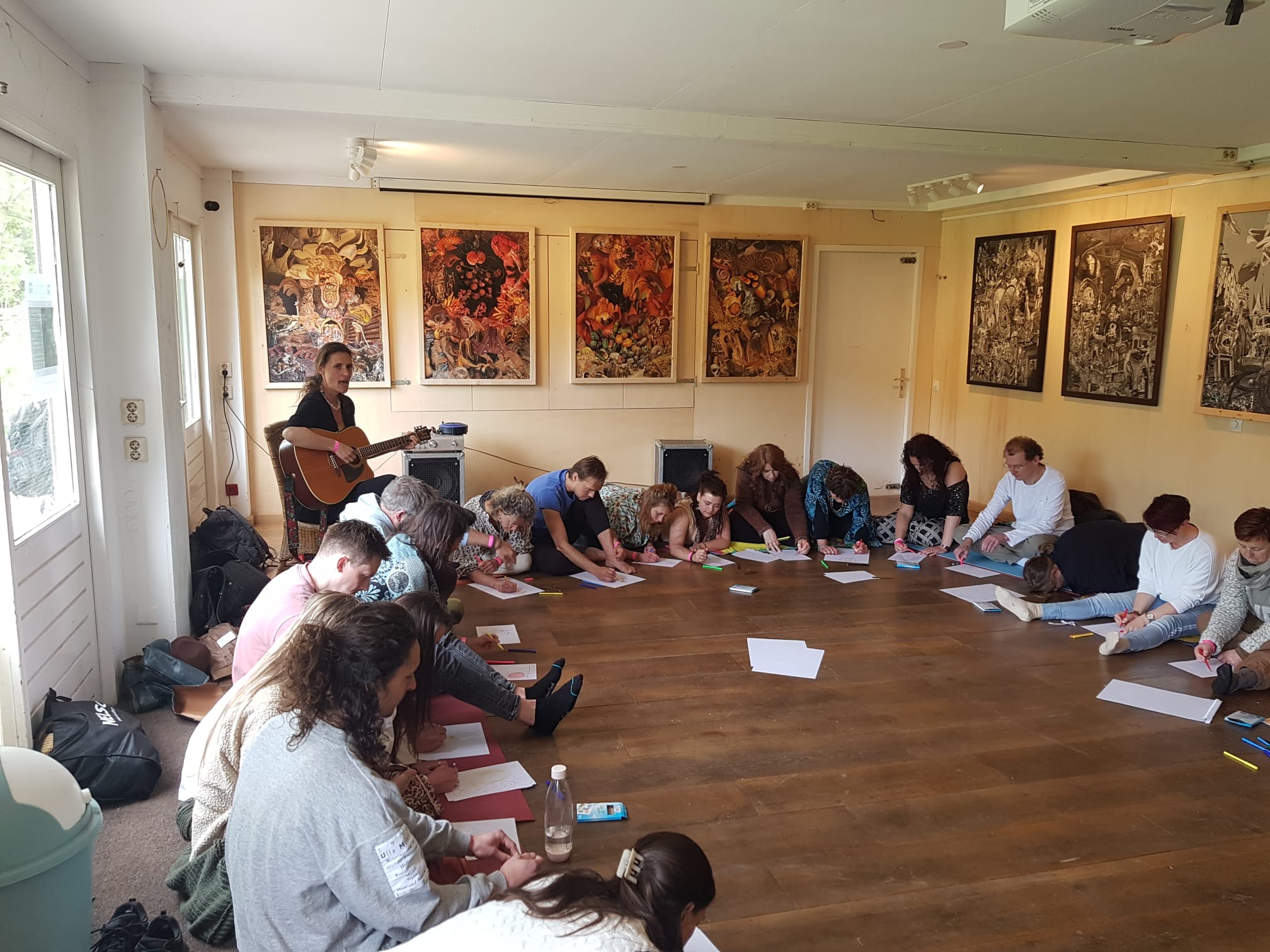 Waarom helpt het om je droom op te schrijven en er een kunstwerk omheen te maken?
Afgelopen hemelvaart gaf ik een workshop, waarbij de groep intuïtief aan een kunstwerk tekende en hun dromen, blokkades en de weg eruit, onder de loep namen, terwijl ik toepassende liedjes voor ze speelde. Veel mensen vertelden me na afloop dat ze inzichten hadden gekregen die ze totaal anders naar hun leven deden kijken. Vooral met betrekking tot belemmerende overtuigingen en hoe je hier zelf iets aan kunt doen om je realiteit te veranderen. Maar wat maakt het bewust uitspreken van je droom nou zo krachtig?
1) Wanneer je je iets zo levendig voor kunt stellen dat het voor je beleving al gebeurd is, heb je alle gevoelens en facetten van die gebeurtenis al ervaren. Dat maakt je focus op wat het is dat je graag zou willen en de weg ernaartoe een stuk makkelijker.
2) Als je afgestemd bent op het gevoel dat je graag zou hebben wanneer je droom is uitgekomen, wordt het super makkelijk om keuzes te maken. Voelt iets goed? Go for it! Voelt het niet goed? Laat je er niet mee in. Aangezien het leven uit een ontelbare hoeveelheid keuzes bestaat, komt je doel bij elke keuze een stukje dichterbij. Uiteindelijk is het zo simpel.
3) Zoals onbewuste negatieve overtuigingen je vasthouden in een bepaalde werkelijkheid, kunnen gevoelens die overeenkomen met de door jou gewenste werkelijkheid deze dichterbij halen. Als je bedacht hebt dat je iets wilt, maar je kunt het niet voelen, wanneer zich een mogelijkheid voordoet, grijp je die mogelijkheid meestal niet aan. Zodra je weet wat je wilt en hoe dat voelt, trek je situaties aan die daarbij horen.
Hoe vaker je in jezelf het gevoel oproept dat je verwacht te hebben wanneer je droom is gerealiseerd, hoe makkelijker het voor je wordt om kansen te herkennen en de juiste keuzes te maken.
Wil je het zelf ervaren, zou je technieken willen leren die je daarbij kunnen helpen en krijg je graag meer inzicht in hoe je de kunstenaar van je eigen leven wordt? Check dan ook eens mijn E-book. Nu nog met 50% lanceringskorting verkrijgbaar op mijn site. <3
English:
Why does it help to write down your dreams and create a work of art around it? Last ascension day I gave a workshop, where the group drew intuitively on a work of art and examined their dreams, blockages and the way out, while I played my songs for them. Many people told me afterwards that they had gained insights that made them look at their lives completely differently. Especially with regard to limiting beliefs and how you can do something about this yourself to change your reality. But what makes consciously expressing your dream so powerful?
1) When you can imagine something so vividly that it has already happened, you have already experienced all the feelings and facets of that event. That makes your focus on what it is you would like and the road to it a lot easier.
2) When you are in tune with the feeling you would like to have when your dream has come true, it becomes super easy to make choices. Does something feel right? Go for it! Doesn't it feel right? Don't get involved. Since life is made up of countless choices, each choice brings you a little closer to your goal. In the end it's that simple.
3) Just as unconscious negative beliefs hold you in a certain reality, feelings that correspond to your desired reality can pull you closer to it. If you've thought you wanted something but you can't feel it, when an opportunity presents itself, you usually don't take it. Once you know what you want and how it feels, you attract situations that go with it. The more often you evoke in yourself the feeling you expect to have when your dream has been realized, the easier it will be for you to recognize opportunities and make the right choices. Do you want to experience it yourself, would you like to learn techniques that can help you with this and would you like to gain more insight into how to become the artist of your own life? Then check out my E-book. Now available on my site with a 50% introduction discount. <3