Interactive live concert with La Rosa del Norte!
La Rosa del Norte is a singer songwriter with beautiful songs from the heart with committed and sensitive lyrics. She takes you on a journey to Bali where she wrote a song about giant turtles and where a seed was planted to help solve plastic pollution, to Panama where the residents of an idyllic surf village don't know where to go with their waste. You hear a hymn for mother earth and for a wise Maori man and through a song about the lockdowns we touch on the need to accept each other's differences more.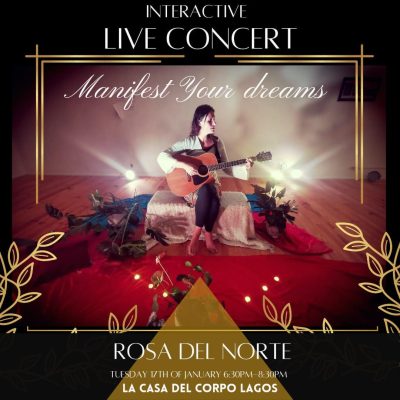 These are just some of the songs, but there are many more. We will end the first part of the programme with a sound healing to unify our intentions for a better world.
In the second part, she sings about manifesting her dreams, her struggles towards it and how to overcome them. She will take you on a meditative journey to help manifest your own dreams and offers a heartmath practice you can use to enhance your overall happiness.
After this interactive concert your heart will be fully opened and you will sense a bigger feeling of joy and happiness. Also you have gotten some tools and inspiration to manifest your dreams and to co-create this world into a better future for all.
La Casa del Corpo, Avenida da Republica, Beco da Horta, lote 4, loja b , Lagos, Portugal
Sliding scale between 15 and 25 Euro's
Reserve your spot by sending a message to Rosa.
Learn more about her music at:
Did you enjoy the Interactive Live concert ?