With sensitive and heartfelt lyrics, Rosa sings about her travels, life and the keys she has found to unlock her potential to create more happiness. Through her songs she gives you a roadmap and activation to creating happiness in your life as well. As a bonus she offers a couple of meditations and practices to deepen the experience of her music and its message.
Beautiful heartfelt songs, Rosa is a true visionary and activist, not to mention a great unique musician 
Heitor Carvalho
Super beautiful event and song. Deep and Inspiring, for create or own path of happiness
Marine Bugeia
La Rosa del Norte is a singer songwriter with beautiful songs from the heart with committed and sensitive lyrics. She takes you on a journey to Bali where she wrote a song about giant turtles and where a seed was planted to help solve plastic pollution, to Panama where the residents of an idyllic surf village don't know where to go with their waste. You hear a hymn for mother earth and for a wise Maori man and through a song about the lockdowns, we touch on the need to accept each other's differences more. She also sings about manifesting her dreams, her struggles towards it, how to overcome them and much more.
Most people are deeply touched and inspired by her songs and sense a bigger feeling of joy and connectedness afterwards.
As an extra deepening for the concert, you can choose for her to take you on a couple of meditative journeys between the songs, or you can choose for a more interactive experience where her music blends with her workshop about manifesting dreams see Workshop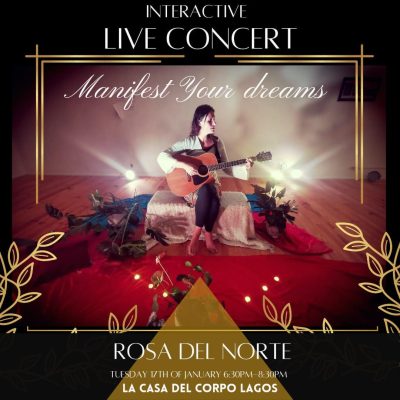 La Casa del Corpo, Avenida da Republica, Beco da Horta, lote 4, loja b , Lagos, Portugal
Sliding scale between 15 and 25 Euro's
Reserve your spot by sending a message to Rosa.
Learn more about her music at:
Did you enjoy the concert ?